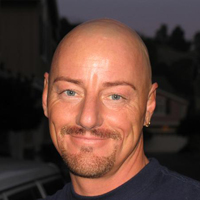 Wayne Hurt, Owner/Designer
Hi, my name is Wayne Hurt, and I am the owner/designer of Samurai Paver Systems. We are a family owned business that I run with my mom and dad, Harold and Gena. We love this company, and put our heart and soul into it with the help of God. We would like to thank you for stopping by. Over the years I have worked with many paver companies. I took their best practices, added my own style, my work ethics, and my principles to create what I proudly call Samurai Paver Systems.
I have been asked, "Why the name Samurai Pavers?" For many years I have collected and appraised antique Samurai Swords and fittings. (I am creating a book on part of my collection.) The word Samurai means "to serve," which is what I do. By God's design I am a servant. I named my company after my hobby and my personality.
I am not a fancy, smancy kind of guy. I am Christian and a man of my word. I am not a "salesman." (There will never be a commissioned sales person in my company)
Yes, sales is involved with what I do, but I never push a client to sign anything.
My job is:
to meet with you at your convenience.
to listen to your needs and desires regarding the project.
to show you all the possible design features.
to take all of the measurements.
to design, with you, a system that works for all of your needs and budget.
to show you all of the available materials.
to help you make a well-informed decision on style/color/pattern of materials.
to put together a scale drawing of the project.
Then I:
meet with you again.
show you the designs.
take special care to explain where every dime goes.
make any changes to the design you desire.
redraw the scale drawing for the project
You will:
know who I am.
have seen my designs.
know the budget for the project.
I will:
make a follow-up call to answer new questions
answer those questions
leave you alone.
You will:
know how to reach me.
be allowed to choose who will complete your project.
Clients have called after a year to say, "Okay, we are ready." If the costs of materials and labor have not increased I honor the original estimate. My contracts are not filled with "legal", nor do I place pre-liens on your property. You never pay for work that is not performed. When you and I write a contract (yes, we write it together) it will be very clear about the scope of work to be performed, your expectations of the project, as well as the money you will pay as "progress payments." When you see "progress" I get the payment agreed upon, and never before. That is just good business.
My projects are evidence I love what I do. I have many references you may check. Here are a few:
"Wayne loves what he does!"
"He went the extra mile for us, even if at a loss to himself."
"He made sure the project came out exactly as he said it would."
"Our expectations were more then met."
" His crew was clean, courteous, and if asked, did other things outside the written contract for us."
The next time you need a qualified, licensed, bonded, contractor to expertly and professionally design and install your project, consider me and my company. All estimates are free. It will always be my pleasure to meet with you. Peruse my site, see the work I designed and installed. Email me with any questions. GIVE ME A CALL.